COMPANY PROFILE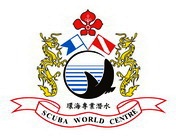 SCUBA WORLD (SHENZHEN) CO. LTD. (SZSWC) and HONG KONG SCUBA WORLD CLUB (SWC) are sister Companies, both are the most prestigious and safe dive organizations in Shenzhen, China (PRC) and Hong Kong. The Scuba World Group have been operated for more than 30 years, over 4,000 students have been trained and registered, and been enjoying all privileges provided. Among all local dive organizations, Scuba World Group has been maintaining the most respectable (zero accident) safety record since 1989.
SZSWC's Office, Equipment Showroom and Dive Activity Centre is located by the sea of Dong Shan Village at Dapeng Peninsula, Shenzhen, China (PRC), it only takes about one hour by car from Luohu. Dive activity is available on a daily basis during Summer (April - November) upon advance booking. Hotels and Seafood Restaurants are available nearby, these allow maximum flexibility for weekend training and dive activities. For information of Shenzhen dive activities, dive sites profiles, charges for boat diving activities and rental of equipment rental etc., please browse [Shenzhen Diving Activities], [Try Scuba Diving] and [Snorkelling Fun Day].
It is highly recommended that Foreigners who participate in diving activities at the Dapeng Peninsula should always bring along with their Passport or Residential Permit for security check. For the location of our Dive Activity Centre at Dapeng, please browse [Road Map to Office and Dive Activity Centre].
DIVE EQUIPMENT DEALERS AND DISTRIBUTORS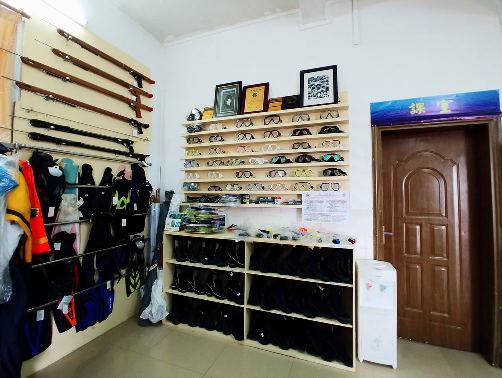 Scuba World (Shenzhen) Co. Ltd. (SZSWC) and its sister Companies in Hong Kong are Dealers / Distributors of various brands of equipment for recreational and commercial diving. Brands of equipment represented include but not limited to: Aqua Lung, Sea Quest, Scubapro, Mares, Seac Sub, IST, TUSA, Sherwood, Sunnto, Sea-Doo, OTS, Bauer, Coltri Sub, SMD, Cortland Fibron etc.. Please come and take a look at our Equipment Showroom at Dapeng for products information and discounted packages.
Equipment that are available ex-stock Shenzhen include but not limited to: Regulators, BCDs, Gauges, Dive Computers, Underwater Camera and Housings, Lighting System and Torches, Technical Diving Equipment, Underwater Ear Protections Masks, Masks with Correction Lens, Underwater Sea Scooters, Nitrox Equipment, Rebreathers, Underwater Hunting Equipment, Surface-supplied Air Diving Equipment, Dive Umbilical, Dive Helmets, Underwater Wired/Wireless Communication Systems, Air Cylinders and Low/High Pressure Compressors etc.. Special Masks with Ear Protections and Corrective Lens are also available ex-stock.
| | | | | |
| --- | --- | --- | --- | --- |
| | | | | |
| | | | | |
| | | | | |
| | | | | |
| | | | | |
EQUIPMENT PACKAGES
Discounted packages for Personal Dive Equipment, Regulators and BCDs, and diving accessories of different brands are available ex-stock at our Showroom/Office at Dapeng, Shenzhen, China (PRC), please come and take a look.
Basic Personal Dive Equipment Packages
1.

Mask (Corrective Lens are available on some Models)

2.

Mask Strap

3.

Anti-fog

4.

Snorkel

5.

Wet Suit (3 mm Long Sleeve - One Piece)

6.

Boots

7.

Open Heel Fins

8.

Gloves

9

Surface Balloon

10.

Mesh Gear Bag

======================================
Student / Member Package about¥2,800 (Ex-stock)
Imported SCUBA Equipment Packages
1.

Buoyancy Compensating Device (BCD)

2.

Balanced Regulator (1st + 2nd Stages)

3.

Extra 2nd Stage (Octopus)

4.

3 in 1 Combo Gauge (Air Pressure, Depth and Compass)

5.

Auxiliary Accessories (Gauge Holders and Hose Protectors etc.)

======================================
Student / Member Package about¥9,000 (Ex-stock)
EQUIPMENT WARRANTY AND ANNUAL FUNCTIONAL TEST
Students and Members are entitled to Discounted Packages on equipment purchasing. Regulators, BCDs, Gauges, Computers purchased may also enjoy Annual Functional Test free of charge during the period of valid membership. Please take a look at our Equipment Showroom at Dong Shan Dive Centre.
EQUIPMENT MAINTENANCE AND UPGRADE SERVICES
SZSWC provides equipment maintenance and upgrade services for all types and all manufacturers of Dive Equipment. Service Charges: Regulator (First and Second Stages) Annual Overhaul and Functional Test¥750 (Excluding Parts). BCD Annual Overhaul and Functional Test¥450 (Excluding Parts). Dive Computer Battery Renewal and Pressure Test¥650-¥850 (Dependent upon Models), excluding repair and spare parts. Services required will normally be completed in 1 - 2 weeks.
DIVE EQUIPMENT MAINTENANCE WORKSHOP
Scuba World (Shenzhen) Co. Ltd. (SZSWC) conducts [Equipment Maintenance Workshop] on regular basis, the One-day Workshop provides opportunity for participants to understand the designs and functions of various types of BCDs and Regulators (Piston type and Diaphragm type), obtain hand-on experiences on disassembly, assembly, testing and pressure setting of BCDs and Regulators.
SECOND-HAND DIVE EQUIPMENT FOR SALE
Members may offer their dive equipment for sales at SZSWC. Second-hand dive equipment that are available now include but not limited to BCDs, Regulators, Diving Computers, 2 in 1 or 3 in 1 Gauges, High Pressure Compressors, Scuba Tanks, Underwater Camera, Camera Housings and Rebreather Unit etc. Please come and take a look at our Dapeng Showroom/Office.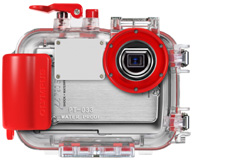 For inquiry and further information, please contact us on Tel.: (86) 138 2522 3300 or E-mail kkli@szswc.com .
CHARGES FOR DIVE EQUIPMENT RENTAL
ITEMS

PRICES

Scuba Air Tank (10 - 12 L)

¥70 - ¥80 / Cylinder

Refilling of Scuba Tank (6 - 12 L)

¥50 / Cylinder

Buoyancy Compensating Device (BCD)

¥80 / Day

Regulator with Gauges and Octopus

¥80 / Day

3 mm Wet Suit (Shorties)

¥50 / Day

3 mm Wet Suit (Long Sleeves)

¥80 / Day

Snorkeling Equipment (Mask + Snorkel + Close Heel Fins)

¥100 / Day

Personal Dive Equipment for Scuba Diving:
Mask + Snorkel + Wetsuit + Boots + Open Heel Fins + Surface Balloon + Mesh Bag

¥250 / Day

Weight Belt

¥50 / Day

Surface Balloon

¥50 / Day

Underwater Torch for Night Diving

¥100 / Dive

Spear Guns for Underwater Hunting (Spear Head excluded)

¥200 - 300 / Day
AGENTS AND DISTRIBUTORS OF
IMPORTED DIVE EQUIPMENT