FIRST AID & CPR INTRODUCTORY
WORKSHOP
(ONE
-
DAY)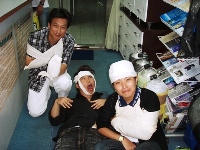 SZSWC is pleased to organize First Aid & CPR Introductory Workshop (One Day) to the general public, school teachers and laypersons upon requested. This one-day Workshop teach the school teachers and laypersons the basic knowledge and techniques in handling emergencies that may be happened at Home, School and Office. There will be no Exam. required and no certification issued at the end of the Workshop. Participants will be introduced the basic knowledge and techniques in Victim Assessment, Basic Life Support, Shock, Bleeding and Wounds, Poisoning, Burns, Cold & Heat Related Injuries, Bone, Joint and Muscle Injuries, One Rescuer CPR for Adult, Child and Infant, Choking and Obstructed Airway Management for Adult, Child & Infant and some common Medical Emergency etc.
Joint activity with Schools and Companies are welcome. Please contact us on (86) 138 2522 3300 or E-mail: kkli@szswc.com.
PREREQUISITES
Minimum age is 18.
INTRODUCTORY

WORKSHOP FEES
Class Size: 15 - 20 persons per Class
Duration: 0930 - 1830 hrs
Fees: ¥1,000 per person, no Certificate will be issued.
All Course Packages do not cover any Diving Insurance, students are advised to arrange his/her own Insurance, if required.
EQUIPMENT
All necessary training materials and First Aid / CPR equipment will be provided by SZSWC during the Workshop.