SZSWC is a Professional Training Centre of National Association of Underwater Instructors (NAUI), Professional Association of Diving Instructors (PADI) and World Underwater Federation (CMAS) etc., and we assure you will receive the best training in recreational diving in Shenzhen, China (PRC). Courses available include but not limited to: All levels of Scuba Divers, Technical Divers, Rescuers and First Aiders, Diving Specialties, Nitrox Divers, Rebreather Divers, Dive Leadership Courses, Dive Instructor Courses and Instructor Trainer Workshop etc.. For Progression of Dive Training, Contents and Schedules of Training Courses, please browse [Basic Scuba Course] and/or [Discounted Combined Courses].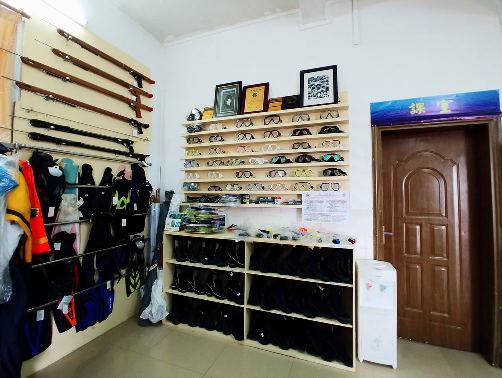 All levels of NAUI, PADI and CMAS courses are available at SZSWC upon request. Diver qualifications are generally acceptable for crossover from one to another. For Cross References of Dive Certifications, please browse [Cross References of Certifications].
SZSWC's Instructors, Instructor Trainers and Course Directors are highly qualified and experienced educators, All students can be assured that they are receiving the finest diving education available. For the qualifications and experiences of our Teaching Instructors, please browse [Our Instructors]. Quality Difference!
DIVE EQUIPMENT DEALERS AND DISTRIBUTORS
SZSWC Group is Dealers / Distributors of various Brands of Dive Equipment for recreational and commercial diving. Manufacturers of Dive Equipment represented include but not limited to : Aqua Lung, Sea Quest, Scubapro, Mares, Seac Sub, TUSA, Sherwood, Sunnto, IST, Sea-Doo, OTS, Bauer, Coltri Sub, SMD, Cortland Fibron etc. Our Group Founder (Mr Li) is pleased to share with you his experiences in proper Care, Maintenance and Testing of essential Dive Equipment at this Workshop.
EQUIPMENT MAINTENANCE AND UPGRADE SERVICES
SZSWC provides equipment maintenance and upgrade services for all types and all manufacturers of Dive Equipment. Service Charges: Regulator (First and Second Stages) Annual Overhaul and

Functional Test

¥

7

50 (Excluding Parts). BCD Annual Overhaul

and

Functional Test

¥

4

50 (Excluding Parts). Dive Computer Battery Renewal and Pressure Test¥

6

50 -

¥

85

0 (Dependent upon Models), excluding repair and spare parts. Services required will normally be completed

in 1 - 2

week

s

.
DIVE EQUIPMENT MAINTENANCE WORKSHOP
SZSWC conducts Equipment Maintenance Workshop to Divers and Instructors on regular basis for familiarization and maintenance of their own dive equipment. Participants may obtain hand on experiences on disassembly, reassembly, testing and pressure setting of various types of BCDs and Regulators (Piston and Diaphragm types) at this one-day Workshop.
Workshop Date:
Saturday

,

12 Devember

20

20

at 09

3

0 - 1

73

0 hrs

Workshop Location: Shenzhen SZSWC Dive Centre
WORKSHOP CONTENTS AND SCHEDULES
Full Day Training 09:30 - 18:00 hrs

0930 – 1100

Types and design of BCDs and Regulators

1100 – 1200

Disassemble and reassemble of BCD Inflators and Dump Valves

1200 – 1300

Lunch Break

1300 – 1430

Disassemble and reassemble the First and Second Stages of a Balanced Piston Regulator

1430 – 1500

Designs and features of the Super Balanced Diaphragm Regulator

1500 – 1700

Disassemble and reassemble the First and Second Stages of a Super Balanced Diaphragm Regulator

1700 – 1800

Adjusting and Testing of Balanced Piston and Diaphragm Regulators

1800 – 1830

Introduction to Rebreather
WORKSHOP FEE
¥2,000 per student including all necessary Training Material and Tooling.
On completion of the Workshop, students may apply for NAUI Equipment Specialist Certification, if required. Certification Fee is ¥600.
RESERVATION
Participants are required to reserve their seats not less than one week in advance. For further information and inquiry, please contact us on Tel.: (86) 138 2522 3300 or E-mail: kkli@szswc.com.