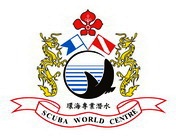 SZSWC is a Professional Training Centre of National Association of Underwater Instructors (NAUI), Professional Association of Diving Instructors (PADI) and World Underwater Federation (CMAS) etc., and we assure you will receive the best training in recreational diving in Shenzhen, China (PRC). Courses available include but not limited to: All levels of Scuba Divers, Technical Divers, Rescuers and First Aiders, Diving Specialties, Nitrox Divers, Rebreather Divers, Dive Leadership Courses, Dive Instructor Courses and Instructor Trainer Workshop etc.. For Progression of Dive Training, Contents and Schedules of Training Courses, please browse [Basic Scuba Course] and/or [Discounted Combined Courses].
All levels of NAUI, PADI and CMAS courses are available at SZSWC upon request. Diver qualifications are generally acceptable for crossover from one to another. For the Cross References of Dive Certifications, please browse [Cross References of Certifications].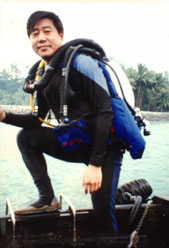 SZSWC's Instructors, Instructor Trainers and Course Directors are highly qualified and experienced educators, All students can be assured that they are receiving the finest diving education available. For the qualifications and experiences of our Teaching Instructors, please browse [Our Instructors]. Quality Difference!
It is highly recommended that Foreigners who participate in diving activities at the Dapeng Peninsula should always bring along with their Passport or Residential Permit for security check. For the location of our Dive Activity Centre at Dapeng, please browse [Road Map to Office and Dive Activity Centre].
REBREATHER DIVER COURSE OUTLINE AND SCHEDULE
Recreational Scuba Divers often used scuba unit (Open Circuit) for diving, while Technical Divers like to use Rebreather units for diving at confined environment (such as Cave or Penetration Wreck Diving). It is because the gas supply of a Close Circuit or Semi-closed Circuit Rebreather can be recycled, thus help to reduce bubbles and extend the time underwater however, users must be trained and certified in nitrox and rebreather diving before they can use such equipment for safe diving activities.
The Semi-closed Rebreather Diver Course is a 2-days program of continued and supervised experience that is designed to introduce divers to technical diving. There are Half Day Academic Training, Half Day Pool Training and One Day Openwater Training, the course may be completed in one weekend. For inquiry, please contact Mr Li on (86) 138 2522 3300 or Email: kkli@szswc.com.
COURSE PREREQUISITES
| | |
| --- | --- |
| | Certified Nitrox Diver of any recognized agency. (Students may take combined course to fulfil this requirement). |
| | Good health conditions. |
DOLPHIN SEMI-CLOSED REBREATHER DIVER COURSE PACKAGE
¥8,000 per student, including rental of Semi-closed Rebreather unit for the Course. Minimum class size is 2.
All Course Packages do not cover any Diving Insurance, students are advised to arrange his/her own Insurance, if required.
The Course Package covers:
Tuition and Certification;

One Day Academic and Pool Training and One Day Openwater Training, including rental of Rebreather, Nitrox Cylinders and Weight Belt, excluding rental of personal dive equipment;

Free Entry to our Dive Club and are entitled to membership discount on equipment purchasing, dive activities and other benefits valid through the end of March next year. Please browse [Member Privileges] for more information.

Should you required: Luohu / Dapeng land transportation (4-seats Saloon) is available at about¥500 (round trip).
Dapeng Peninsula Motels Air-conditioned Twin-bed Room is available at about ¥300 - ¥400 / Night.
NITROX DIVER + SEMI-CLOSED REBREATHER DIVER COMBINED COURSE
Nitrox Diver + Semi-closed Rebreather Diver Combined Course Package is also available at¥11,000 for students (Original ¥11,500, saving of one day), including rental of Semi-closed unit and nitrox cylinders for the Course. Students may obtained 2 certifications upon course completion.
All Course Packages do not cover any Diving Insurance, students are advised to arrange his/her own Insurance, if required.
QUALIFICATIONS OF GRADUATES
Graduates of this course will be certified as TDI Semi-closed Rebreather Diver, who are internationally recognized and considered competent to engage in semi-closed rebreather diving activities without direct supervision.
DIVE EQUIPMENT
Students are required to have their Personal Dive Equipment for the Course. Discounted equipment packages including masks with corrective lens are available for students. Equipment rental including Semi-closed Rebreather is also available. Please browse [Dive Equipment] for products information and discounted packages.