BRIEF INTRODUCTION OF OUR GROUP COMPANY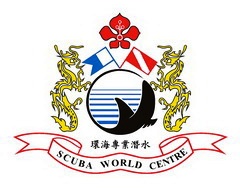 SCUBA WORLD (SHENZHEN) CO. LTD. (SZSWC) and HONG KONG SCUBA WORLD CLUB (SWC) are sister Companies, both are the most prestigious and safe dive organizations in Shenzhen, China (PRC) and Hong Kong for more than 30 years, over 4,000 students have been trained and certified, and been enjoying all privileges provided. Among all local dive organizations, Scuba World Group have been maintaining the most respectable (zero accident) safety record since 1989.
SZSWC is a Professional Training Centre of NAUI, PADI, CMAS and TDI etc., and we assure that you will receive the best training in recreational diving in Shenzhen, China (PRC). Courses available from Beginner Courses up to Instructor Trainer Courses. For Progression of Dive Training, Contents of Training Courses and Cross-References of International Certifications etc., please browse [Scuba Diver Course], [Discounted Combined Courses] and /or [Our Instructors].
SZSWC's Equipment Showroom and Dive Activity Centre is located by the sea of the Dong Shan Village at Dapeng Peninsula, Shenzhen, China (PRC), it only takes about one hour by car from Luohu.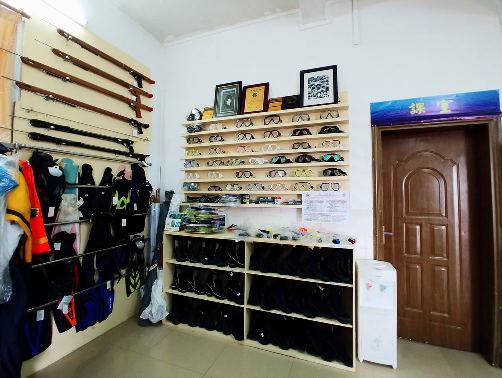 Dive activity is available on a daily basis during Summer (April - November) upon advance booking. Hotels and Seafood Restaurants are available nearby, these allow maximum flexibility for weekend training and dive activities. For information of Shenzhen dive activities, dive sites profiles, charges for boat diving and equipment rental etc., please browse [Shenzhen Diving Activities].
It is highly recommended that Foreigners who participate in diving activities at the Dapeng Peninsula should always bring along with their Passport or Residential Permit for security check.
SZSWC is also Dealers and Distributors of various Brands of imported dive equipment for recreational and commercial diving, sales and services of dive equipment are available at Shenzhen, China (PRC). Special Masks with Ear Protections and Masks that can be fitted with Corrective Lens are also available ex-stock. Please come and take a look at our Equipment Showroom at Dapeng or browse [Dive Equipment] for Products information and Discounted Packages.
MEMBERS ACTIVITIES

Dive Activities for Members

Designation Information

[Pedro Blanco Dive Trips]
Schedule to be announced
May to October only
Min. / Max. 8 Divers / Trip
Advance Booing is required

[Sipadan / Kapalai Diving]
Schedule to be announced
6 Days / 5 Nights / 8 Dives
with 4 Days / 3 Nights
Diving at Kapalai Resort

[Similan Liveaboard Diving]
Schedule to be announced
6 Days / 5 Nights Trip
with 3 Days / 2 Nights
Liveaboard Diving / 11 Dives

[Saipan Diving]
Schedule to be announced
5 Days / 4 Nights / 9 Dives
SZSWC is a Professional Training Centre of:

National Association of Underwater Instructors (NAUI)

Professional Association of Diving Instructors (PADI)

World Underwater Federation (CMAS)

Chinese Underwater Association (CUA), China CMAS Representative

Hong Kong Underwater Association (HKUA)

,

H.K.

CMAS Representative

Diver Alert Networks (DAN)

Technical Diving International (TDI)

National Association of Commercial Diving Specialists (NACDS)
Our Promise to You
The combination of exceptional leadership, sound educational materials, and true concern of students has resulted in our most respectable (zero accident) safety record in the recreational diving community since 1989. All students can be assured that they are receiving the finest diving education available and will become the best and the most respectable divers and dive leaders in the diving community. Our Instructors would not accept anything less..... and neither should you. Remember, the quality of instructions contributes to the major difference of students' attitude and safety. Scuba Diving is wonderful, you get what you paid for! Your safety is your prime concern. And ours too!
Sales and Services of Diving Equipment
Scuba World (Shenzhen) Co. Ltd. (SZSWC) and its sister Companies Scuba World Club (SWC) in Hong Kong are Dealers and Distributors of various Brands of dive equipment for recreational and commercial diving. Equipment represented include but not limited to: Aqua Lung, Sea Quest, Scubapro, Mares, Seac Sub, IST, TUSA, Sherwood, Sunnto, Sea-Doo, OTS, Bauer, Coltri Sub, SMD, Cortland Fibron etc.. SCUBA equipment purchased at our Group may also enjoy functional test at free of charge annually during the period of valid membership.
SZSWC conducts [Equipment Maintenance Workshop] for divers and dive leadership on regular basis, the One-day Workshop provides opportunity for participants to understand the designs and functions of various types of BCDs and Regulators (Piston type and Diaphragm type), obtain hand-on experiences on disassembly, assembling, testing and pressure setting of BCDs and Regulators.
The General Manager of Scuba World (Shenzhen) Co. Ltd. (Mr K. K. Li) is also Managing Director of Kinetic Key Company Limited (KKCL) in Hong Kong that has been working as a Professional Contractor for Marine Engineering and Commercial Diving for more than 40 years. Marine Works that have been carrying out include but not limited to Ship Repair, Underwater Services, Wreck Recovery, supply & installation of all types HDPE & Aluminum Floating Pontoon with Gangways, Rubber Fenders, Pneumatic Fenders and EVA Fenders for Yacht Clubs, Wharf, Public Piers and Private Premises in Hong Kong and China (PRC).
KKCL also established Production Lines and worked with Suppliers in mainland China (PRC) to supply and install all sizes of Mooring Buoys, Marine Solar-lighted Warning Buoys for Yacht Clubs, Private Boat owners and the Hong Kong Marine Department. KKCL develops the Non-metal Mooring Buoys that are either made in EVA and thoroughly sprayed with Polyurea; or used Fiberglass Module fitted with Reinforced Rubber Fender and filled with hard Polyurethane (PU); both available in Middle Shaft version and Through Chain
version.
For more information
about
the
Professional Services
and
Supplies, please browse [Mooring Systems], [Marine Engineering] and [Commercial Diving]. For
inquiry, please contact Mr Li on Tel.: (86) 138 2522 3300
, (852) 6952 8400
/ 9488 4148
or E-mail:
kkli@kkcl.com.hk
.